Train Derailment in East Palestine, Ohio, Endangers More Than 2,000 Incarcerated People and Exposes Systemic Racism in the U.S.
March 6, 2023
Train Derailment in East Palestine, Ohio, Endangers More Than 2,000 Incarcerated People and Exposes Systemic Racism in the U.S.
by JLUSA
March 3, 2023
On February 3, a Norfolk Southern freight train carrying hazardous materials derailed in East Palestine, Ohio. Several railcars burned for more than two days, and emergency crews conducted a controlled burn of several railcars at the request of state officials, which released toxic hydrogen chloride and phosgene into the air.
Environmental groups have sounded the alarm of the devastating impact of this disaster, including pointing to the death of more than 43,000 animals that have died in and around East Palestine since this occurred.
A Prison Sentence Should Not Be a Death Sentence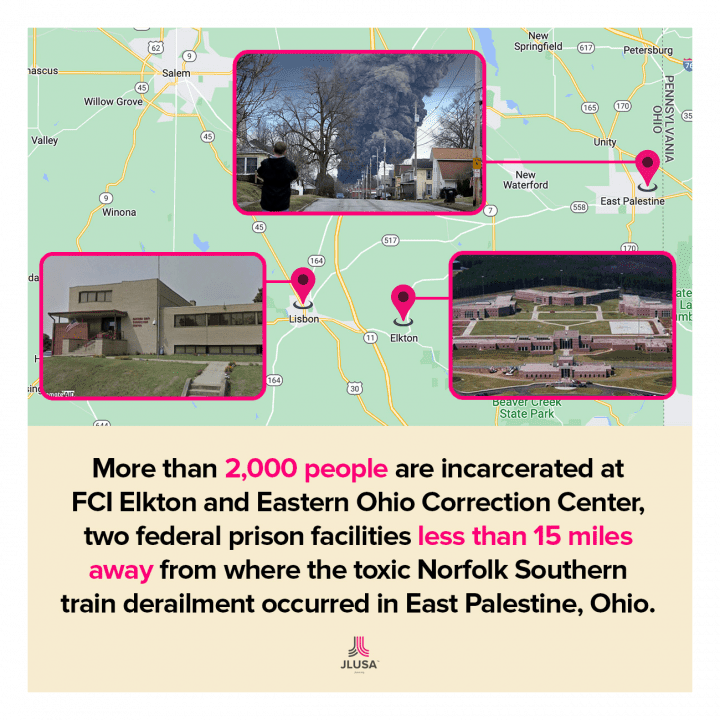 One aspect that has not received the attention it deserves is the health threat to the lives of more than 2,000 people who are incarcerated less than 15 miles away from the site of the Norfolk Southern train derailment. The Federal Correctional Institution Elkton in Elkton, OH, is a low-level federal prison that houses 2,023 men, according to the Federal Bureau of Prisons. The Eastern Ohio Correction Center in Lisbon, OH, is a medium-security federal prison facility that houses 32 women, according to the Ohio Department of Rehabilitation & Correction.
The Correctional Facility Disaster Preparedness Act legislation would help protect the lives of people incarcerated in the fallout of environmental disasters such as East Palestine. This legislation was passed by the House with bipartisan support last summer but has yet to be passed in the Senate and sent to President Biden's desk for his signature. JustLeadershipUSA (JLUSA) continues to issue the urgent call to all Americans to contact their Senators and demand the immediate passage of this legislation.
Systemic Racism Exposed Once Again
The Biden-Harris administration has responded to East Palestine with a multi-agency effort that has included the Environmental Protection Agency (EPA), the Department of Transportation (DOT), the Federal Emergency Management Agency (FEMA), the Department of Health Human Services (HHS), and Center for Centers for Disease Control (CDC).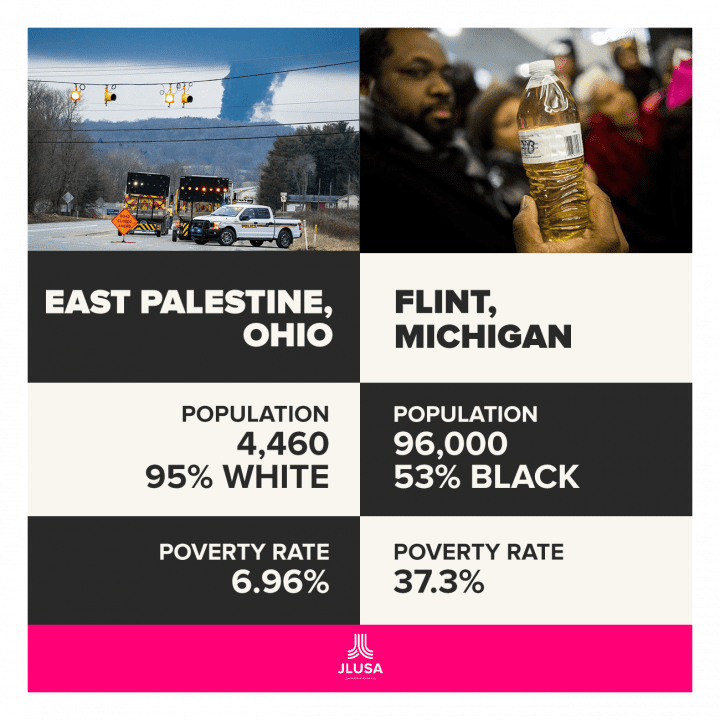 JLUSA President and CEO DeAnna Hoskins says, "The robust response of the federal government to the situation in East Palestine is commendable, but it also exposes once again the unequal response to ongoing environmental disasters such as the contaminated water crisis in Flint, Michigan. When an overwhelmingly white town of less than 5,000 people receives more attention from the federal government in a matter of days and weeks than a city like Flint—with a majority Black population of 100,000 people—has seen in years, it's not difficult to see the disparities. We have to ask the question: Why is this?"
JLUSA continues its mission to amplify the power of people who have been directly impacted by the criminal legal system to self-organize and empower their communities to dismantle racist and oppressive systems in their communities to build a just U.S.
Among our 1,400 leaders in 45 states and Washington, D.C., JLUSA has more than 100 leaders based in Ohio, Michigan, and Pennsylvania who are doing the work locally on the ground to end mass incarceration and address systemic racism and oppression in their communities. If you are interested in speaking with any of them about the work they are doing, we are happy to connect you with them.
For Further Information
The following articles expose how the Flint water crisis has affected the incarcerated population:
Other examples of unsafe drinking water in carceral settings:
Other environmental factors that affect prisons nationwide: